Szenior VB, Marinha Grande (Portugália, 2008. VI. 28-VII. 5.)
---
S P R I N T

W40A
1. Carina Svensson SWE 14:56
12. Györffy Gabriella HUN 19:36
W45A
1. Danute Mansson SWE 14:08
36. Tömördi Ágnes HUN 20:31
W50A
1. Kari Natvig NOR 14:50
13. Kármán Katalin HUN 17:54
M45A
1. Hans Melin SWE 13:40
46. Zentai László HUN 19:55
M50A
1. James Crawford GBR 14:04
20. Balla Sándor HUN 16:18
42. Kerényi Dénes HUN 17:29
M60A
1. Matti Railimo FIN 12:59
15. Boros Zoltán HUN 16:23
---
L O N G

W40A
1. Sarah Dunn GBR 51:03
25. Györffy Gabriella HUN 70:17
W45A
1. Anne Nurmi FIN 47:37
10. Tömördi Ágnes HUN 52:33
W50A
1. Alida Abola LAT 44:31
13. Kármán Katalin HUN 51:34
M45A
1. Reijo Bister FIN 59:42
69. Zentai László HUN 91:36
M50A
1. Ari Kattainen FIN 53:46
59. Balla Sándor HUN 81:54
61. Kerényi Dénes HUN 83:11
M60A
1. Veikko Loukonen FIN 52:34
57. Boros Zoltán HUN 80:17
---
Teljes eredménylista: SPRINT, LONG
---
A verseny honlapján megjelent angol nyelvû interjû Györffy Gabival:
[2008-05-19] Gabriella Györffy, W40, HUN

In Austria A Final, she reached another Hungarian lady starting 2 min before, but she left her run away. The other finished gold medal! Nowadays, without time to train, she comes to Portugal just for fun. Her best race was a sprint.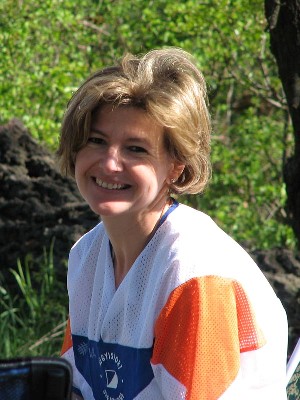 Gabriella Györffy, W40, HUN
You got honorable positions as W35 in two Masters: 8th in Italy 2004 and 14th in Austria 2006. Can you remember the best moments of these two events?
In Italy I was in good form concerning running. The best moment was as I reached the runners started in front of me. I made only small mistakes. I was satisfied with my result. In Austria the best moment was that I reached another Hungarian runner Ágnes Wengrin, she started 2 minutes before me and I saw her at the first control point (it was the best moment). We went together for a while and then in the way to the 5th control point I choose another way, made a small mistake and she run away (it was the worst moment). She won the W35.

What do you feel you are able to do in Portugal 2008? Who can, in your class, reach the podium?
I do it just for fun. I have never been to Portugal. I just want to have a pleasant time there and a good run. I do not really know my class, so I do not know who will reach the podium.

WMOC will have, for the first time, a Sprint Race. Does it suit your abilities and skills?
Yes, I like sprint race, it fits my skills and abilities. Though I am not really fast, for me it is easy to orienteer with a map made for sprint race.

Adam Kovacs, Zsolt Lenkei, Csaba Gosswein, Fanni Gyunko, Eva Makrai, Ildiko Szerencsi, Bernadett Kelemen. They are some of the best Hungarian top Elite runners. Do you know any of them? Do you have any particular story that you experienced whit any of them?
I know all of them but they are much younger than me and I have not any common stories with them.

How many athletes, in Hungary, do you usually have in a national race? Which event will be the most important in 2008?
There are more than 1000 athletes on bigger races in Hungary. In a normal national race the number of athletes is about 300 to 600. I think the biggest and most important race in Hungary in 2008 is the Hungaria Cup. The details you can read on the homepage: http://www.hungariacup2008.hu/. The working ranking events are also important, because we organize the WOC 2009 in Hungary.

Please, give us a reason to go Hungary for an orienteering race.
We have a wide range of terrain types.

What is your date of birth and where do you live?
My date of birth is March 16th, 1967. I live in Budapest.

How did you discover orienteering and for how long have you practiced it?
I was very young as I first heard about orienteering. A man came into our class (primary school) and spoke about orienteering. He was a trainer for orienteers. I was only 9 year old. On the weekends the whole class went to excursions with him. The kids who liked the nature and liked this sport went to sporting events first together and later alone. I was the only one who became a real orienteer and I have never really stopped it, but in the middle of the nineties I do not really practised it.

I saw your name in ski-O Hungarian & Slovakian Relay Championships 2004. Did you get good performances in this discipline?
It was my first and last experience...

What do you enjoy most in orienteering?
The joint activities. For me it is like a "big family".

Where have you been doing orienteering outside your country?
I have been to Slovakia, Czech Republic, Austria and Italy.

Do you remember your best race?
Two years ago the Hungarian Sprint Championship was held in Balatonfüred. I was in a very good form. I run the qualifying race and became first with 2 minutes ahead of the second competitor. I came into the finish and I started freezing, I got fever. I took some medicine and I thought that though I am ill I have to run because I would like to win. I started in the final and I won the category W35. I was in a very good form, I knew that I can win the race even if I am ill.

Do you have any responsible position in your club or in your federation?
Not really. I worked in Austria. I speak very good German and sometimes I have to translate something for races organized by our club or interpret.

In September 2006, your Hungarian club and a club from Wiener Neustadt (where the WMOC was held two months before) organized together an orienteering event in St. Corona, Austria. Was it the first experience involving the two countries?
It might have been the first one but I don't exactly know. It was an interesting experience.

What kind of training do you use to do?
I have just changed my job, I have a new working place and I try to find time to run.

Do you have orienteers in your family? How do your family and friends support your sporting ambitions?
There is not any orienteer in my family. My family accepts it, my boyfriend looks after my daughter on the weekends if I want to go running or if I have a race and I would like to go alone. My friends admire me and are very proud of me if I win.

What is your job? How can you coordinate your professional and sporting life?
I worked for 16 years in an Austrian law office as assistant of a lawyer. 3 months ago I changed my job and I am working for a company who built strip malls in Hungary. I am the assistant of two Austrian managing directors. It is very difficult to work 8-9 hours a day, to look after a child and to run, it is fast impossible.

What are your hobbies besides orienteering?
Skiing, reading.

What is your favourite website?
My club website is my favourite.

What do you expect from WMOC 2008?
I hope it will be a good event. And I hope we will enjoy it together.

(Interview by Manuel Dias. Questions and answers by e-mail. Received on 2008 Apr 16th.)

---